Media
05 September 2022
Back
Summit supports low-wage migrant workers in Singapore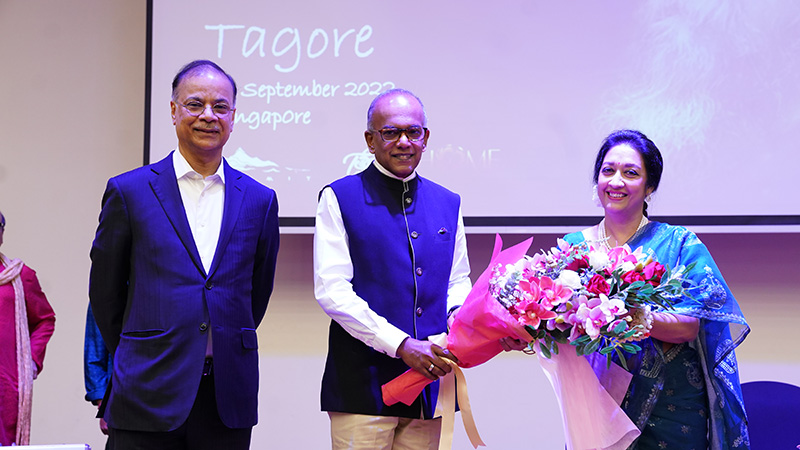 Photo caption: Summit to support the low-wage migrant workers organised a charity concert by Shama Rahman, where Kasiviswanathan Shanmugam, Honourable Minister of Home Affairs and Law, Singapore graced the occasion as the Chief Guest. (Left to right: Muhammed Aziz Khan, Founder Chairman, Summit Group, K. Shanmugam, Honourable Minister of Home Affairs and Law, Singapore and Shama Rahman, eminent Tagore singer.)
(Singapore) 5th September 2022, Monday: In an effort to fundraise for the Migrant Workers' Welfare Fund, HOME in Singapore, Summit with the Tagore Society Singapore organised a charity concert performed by Shama Rahman, a global ambassador of Rabindra Sangeet. All the proceedings were given to HOME to assist low-wage migrant workers in Singapore, who suffer abuse and exploitation such as unpaid salaries, excessive working hours, work injuries, physical and psychological abuse.
At the event Muhammed Aziz Khan, Founder Chairman of Summit Group of Companies remarked, "Today we all need a philosophical guru like Rabindranath Tagore in this world, where war mongers are gaining grounds, poverty is being self-created by nations and divisions of humanity are being built once again."
Among the distinguished guests, Tauhedul Islam, High Commissioner of Bangladesh to Singapore, Derek Loh, Singapore's High Commissioner to Bangladesh and High Commissioner of India to Singapore, P Kumaran were also present at the concert.
About HOME: HOME (Humanitarian Organisation for Migration Economics) is a charitable organisation with Institution of Public Character status. Since 2004, we have been dedicated to improving the welfare and upholding the rights of migrant workers in Singapore. We assist migrant workers who suffer abuse and exploitation. Unpaid salaries, excessive working hours, work injuries, physical and psychological abuse are some of the common problems these workers face. Some of them may also be victims of human trafficking. We run a shelter for domestic workers, helpdesks for domestic workers and male migrant workers. We also offer legal assistance, health education and vocational training to the workers. In 2016, over 2,000 migrant workers received assistance from us. And about 2,000 domestic workers have sat through our skills training courses. HOME works with government agencies, civic groups, corporations and other community partners to realise our vision in creating an inclusive society that stands for justice, fairness and equality.
About Summit's CSR activities: Summit is the largest infrastructure conglomerate in Bangladesh and we believe in making a positive impact on the communities where we operate through our Corporate Social Responsibility (CSR) activities. We have long-standing partnerships with several non-governmental organisations (NGOs) to support projects that improve access to education, arts & culture, sports, healthcare and social services for underprivileged individuals. Summit has a CSR Committee represented by senior leadership of the company and has been awarded for its effort.
For further enquiry:
Summit Corporation: Mohsena Hassan, Email: mohsena.hassan@summit-centre.com, Mobile: +8801713081905
Download Bengali Version